UNILABS SERVING PHARMA EXPERIENCE
Unilabs Serving Pharma has more than 30 years of experience working with pharma Industry.
We have been involved in more than 3000 studies in a vast number of therapeutic areas.
What we offer
We have been involved in a number of Clinical Trials, too numerous to list here (> 3000). Some examples include:
Bioanalytical partner for the first registered European gene therapy drug

Safety parameters, PK and PD in clinical study of respiratory drug

Bioanalytical partner for orphan drug replacement enzyme study

Validation of genotype assays for relapsing remitting multiple sclerosis

Testing of immunogenicity directed towards viral vectors (AAV)

Validation of analytical methods according to current regulatory guidelines

Central laboratory services for clinical studies in dermatology studies

Medical imaging supplier for clinical trial of Alzheimer´s disease

Multiple clinical trials of arthrosis applying CR techniques

Histopathology partner in study involving screening of prostate cancer

Development and commercialisation partner of a Companion Diagnostic test, with more than 100.000 samples per year

Management of global, customised logistics by end-to-end service model in centralised Companion Diagnostic (CDx) testing

GLP, GCLP and GCP compliant and accredited under ISO 17025 or ISO 15189

Customisation of every project – no matter the number of patients
Please contact us to discuss your specific project needs.
"Working with Unilabs always make me feel like "a big fish in a small pond", nothing is too small to get their full attention." CEO, Orphan Drug Company

"My experiences with Unilabs have been extremely positive. They're very experienced so we tend to outsource our more difficult and higher profile compounds to them. They always provide an excellent service with high quality data generated in short timelines." CRO Manager, Large Pharma

"I would like to say a special thank you to Unilabs who have provided fantastic Bioanalytical/TK support to the project especially when developing and validating the metabolite assays and the initial metabolite analysis – your dedication was much appreciated" DMPK Outsourcing Manager, European Large Pharma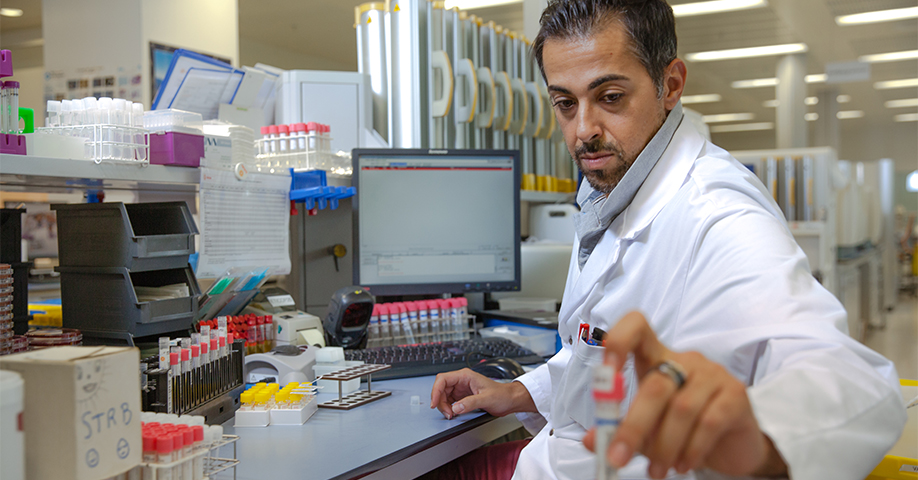 Testing of immunogenicity directed towards viral vectors 
A couple of examples of what we have experience doing within specific indication areas: